INDULGE RITUAL
Kaya Anti-Aging Face Oil 30ml, Face Serum 30ml, Kaya Jungle Firming Oil 100ml, Body Cream 140ml, Massage Tool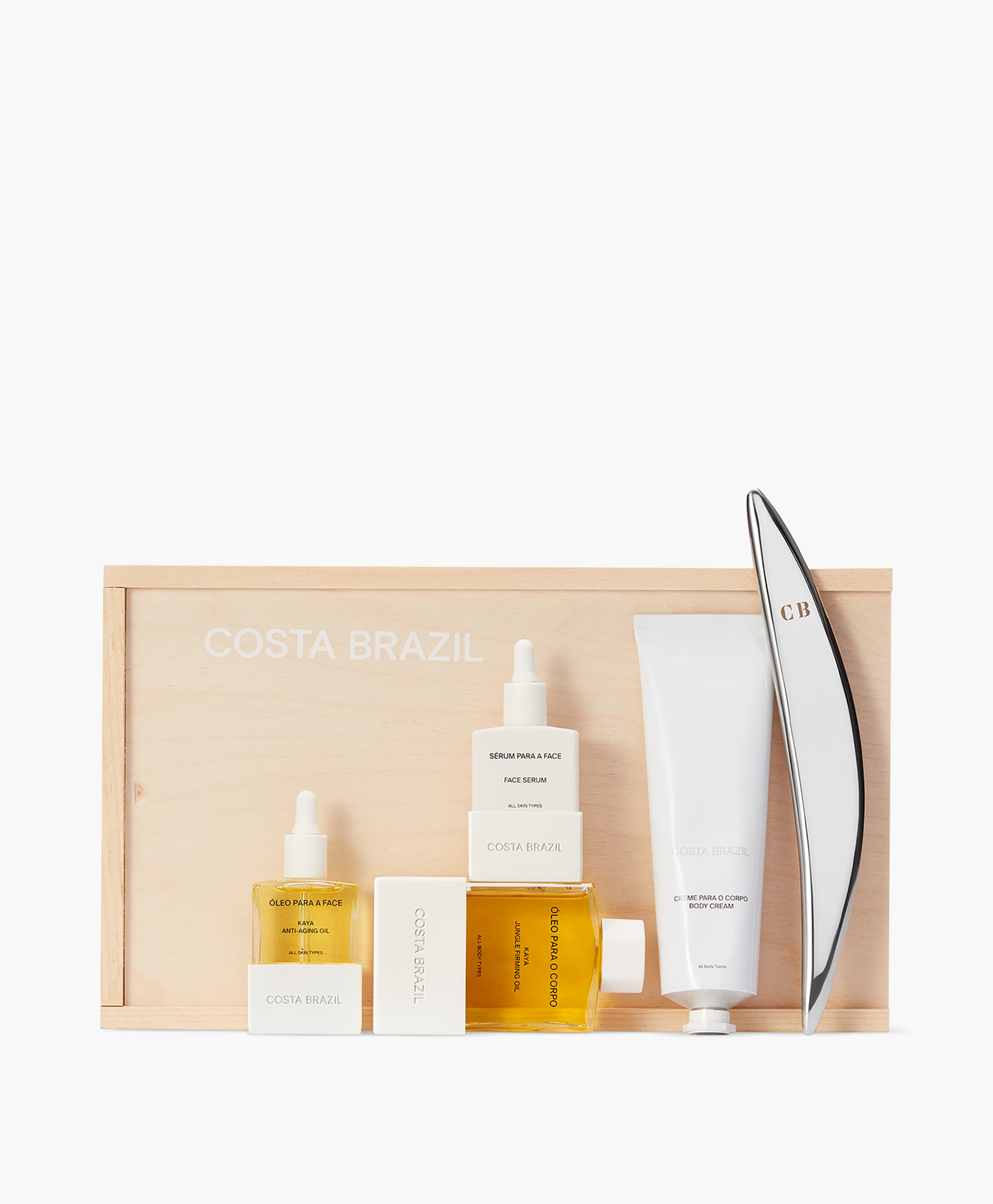 INDULGE RITUAL
Kaya Anti-Aging Face Oil 30ml, Face Serum 30ml, Kaya Jungle Firming Oil 100ml, Body Cream 140ml, Massage Tool
See details
Free US Delivery
Returns Available
Beauty That Gives Back
We are sustainably sourced, environmentally responsible, vegan, no animal testing, free of parabens, phthalates, pegs, silicones, sulfates, gluten, mineral oil and artificial colorants, dermatologist tested.
Soft, sensuous skin from head to toe can be yours with Indulge Ritual. Featuring Face Serum, Kaya Anti-Aging Face Oil, Kaya Jungle Firming Body Oil, Body Cream and Massage Tool.


Face Serum (30ml)
Our lightweight Face Serum is a high-performance blend of hyaluronic acid, vitamin C-rich Camu Camu, Acai, Rosemary, and Breu, which together help nourish, visibly brighten and improve the look and feel of skin texture and tone. No fragrance added.

Kaya Anti-Aging Face Oil (30ml)
A fast-absorbing, lightweight formula, Face Oil is rich in nourishing lipids, powerful antioxidants, omegas and vitamins to help boost radiance, firmness and hydration.

Kaya Jungle Firming Body Oil (100ml)
Good for softening and toning the skin, Body Oil is made with our cold-pressed Jungle Complex of rare Amazonian ingredients. Rich in omegas 3, 6, 9, and vitamins A and E.

Body Cream (140ml)
Lock in moisture and enhance your skin's new-found vitality with Body Cream, which features Jungle Complex as well as hydrating Murumuru Butter. Rich in omegas 3, 6, 9 and vitamins A, B3, C and E.

Massage Tool (23cm x 3.2cm)
Our stainless steel Massage Tool's ergonomic design, long and flat with curved edges, allows for a deeper, more expansive lymphatic drainage massage.
Benefits:
Hydrates
Smoothes And Brightens Skin
Improves Texture And Tone
Encourages Circulation
How to Use
Step 1. Following an invigorating morning shower, gently towel off, leaving skin damp.
Step 2. Apply Body Cream: massage in circular motions all over the body, focusing on dry spots such as knees, elbows, heels.
Step 3. Follow with 3 to 4 drops of Kaya Jungle Firming Body Oil in your palms, taking a moment to pause and inhale the scent before massaging all over the body; repeat as needed.
Step 4. Starting with the limbs, sweep the Massage Tool in upwards motions towards the heart.
Step 5. Place 1 to 3 drops of Face Serum into palms and gently massage over the face, neck, and chest.
Step 6. Follow with Kaya Anti-Aging Face Oil for a dose of antioxidants and added hydration.
Step 7. For added circulation-boosting results, run the edge of the tool up and down the back of the neck repeatedly. Go to the face, slowly working from the center outward and upward.
Eco-Packaging
We strive to use sustainable, recycled, and biodegradable materials whenever possible. Our boxes are made from FSC-certified paper, which has been sourced in an environmentally-friendly and socially-responsible manner.
The power of rare, potent, and natural ingredients sourced ethically from the Amazon.