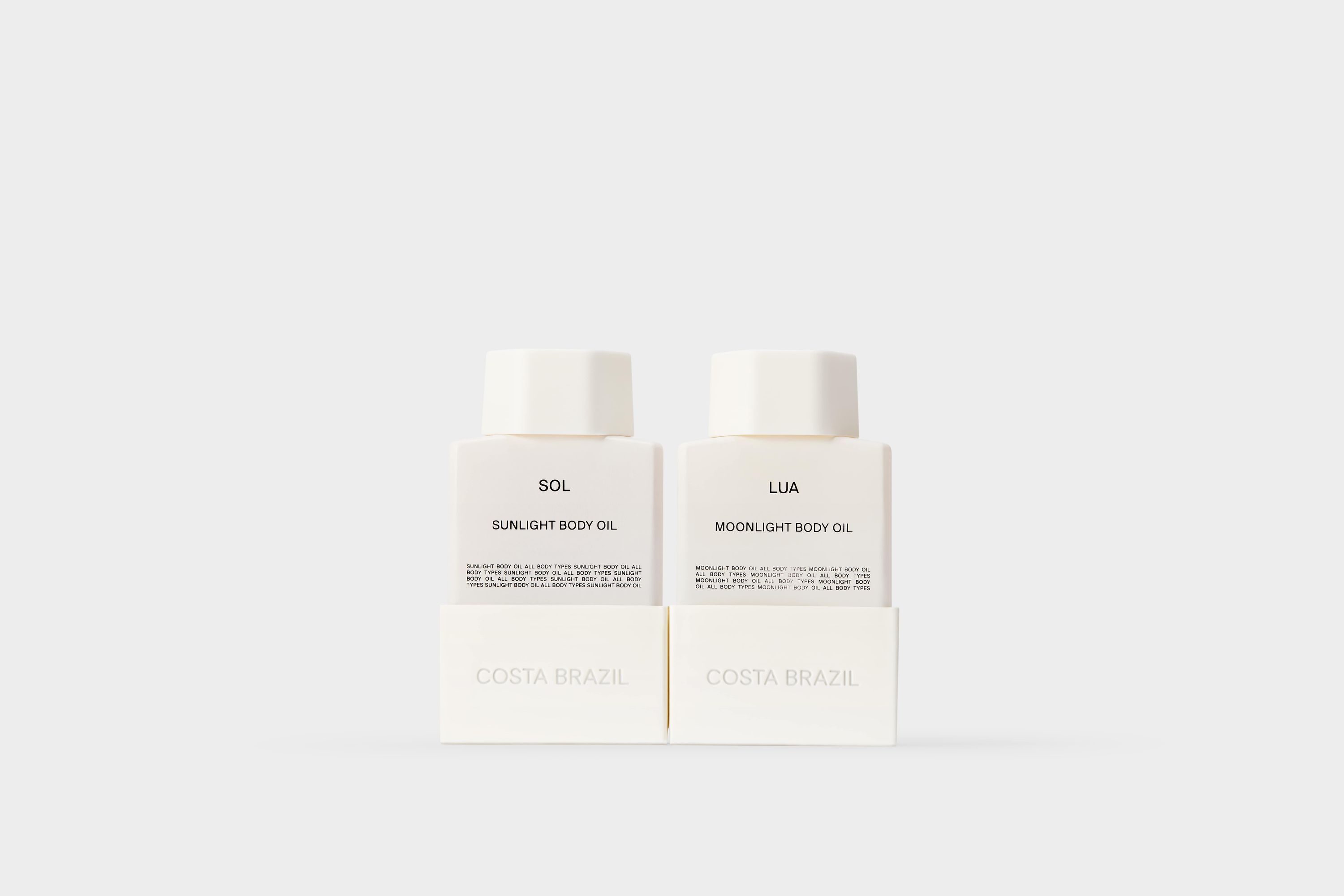 TRAVEL SUN & MOON DUO
Sol | Sunlight Body Oil 30ml & Lua | Moonlight Body Oil 30ml
See details
Calms, Nourishes, Firms And Tones, Provides A Sensuous Natural Glow

Enhance your natural radiance with travel-friendly Sunlight and Moonlight Body Oils. Containing a nutrient-rich complex of Kaya, Cacay and Acai, along with other vitamin-dense ingredients and multi-active super fruits, these Brazilian rainforest elixirs help to soften fine lines, enhance the appearance of firmness, and restore moisture. Apply liberally for golden, sun-kissed skin (Sunlight) or a glimmering and moon-bathed look that's glowing, never greasy. Good for all skin types.

Tip from makeup artist Dick Page: 
Since the tonal changes between the two sheens are slight -- Sunlight "Sol" is all about that golden warmth and Moonlight "Lua" captures the coolness of a summer's evening -- you could wear them together. "I'd recommend Moonlight on the brow bone and the bridge of the nose, and Sunlight on the cheeks and above the lip," says Page, who also says he's mixed the two together to create his own unique shade. "Or, maybe contrast with Sunlight on the face and Moonlight on the clavicle and shoulder and get into the body with it."
Apply daily from the neck, down. Smooth over damp skin and massage in circular motions for a healthy, allover luminosity.
Eco-packaging

We strive to use sustainable, recycled, and biodegradable materials whenever possible. Our boxes are made from FSC-certified paper, which has been sourced in an environmentally-friendly and manner.
Our four-week clinical trials prove that powerful ingredients deliver powerful results
The power of rare, potent, and natural ingredients sourced ethically from the Amazon.