CBRITUAL1
Kaya Anti-Aging Face Oil 30ml, Kaya Jungle Firming Oil 100ml, Body Cream 140ml, Jungle Candle 467g, Resina De Breu 139g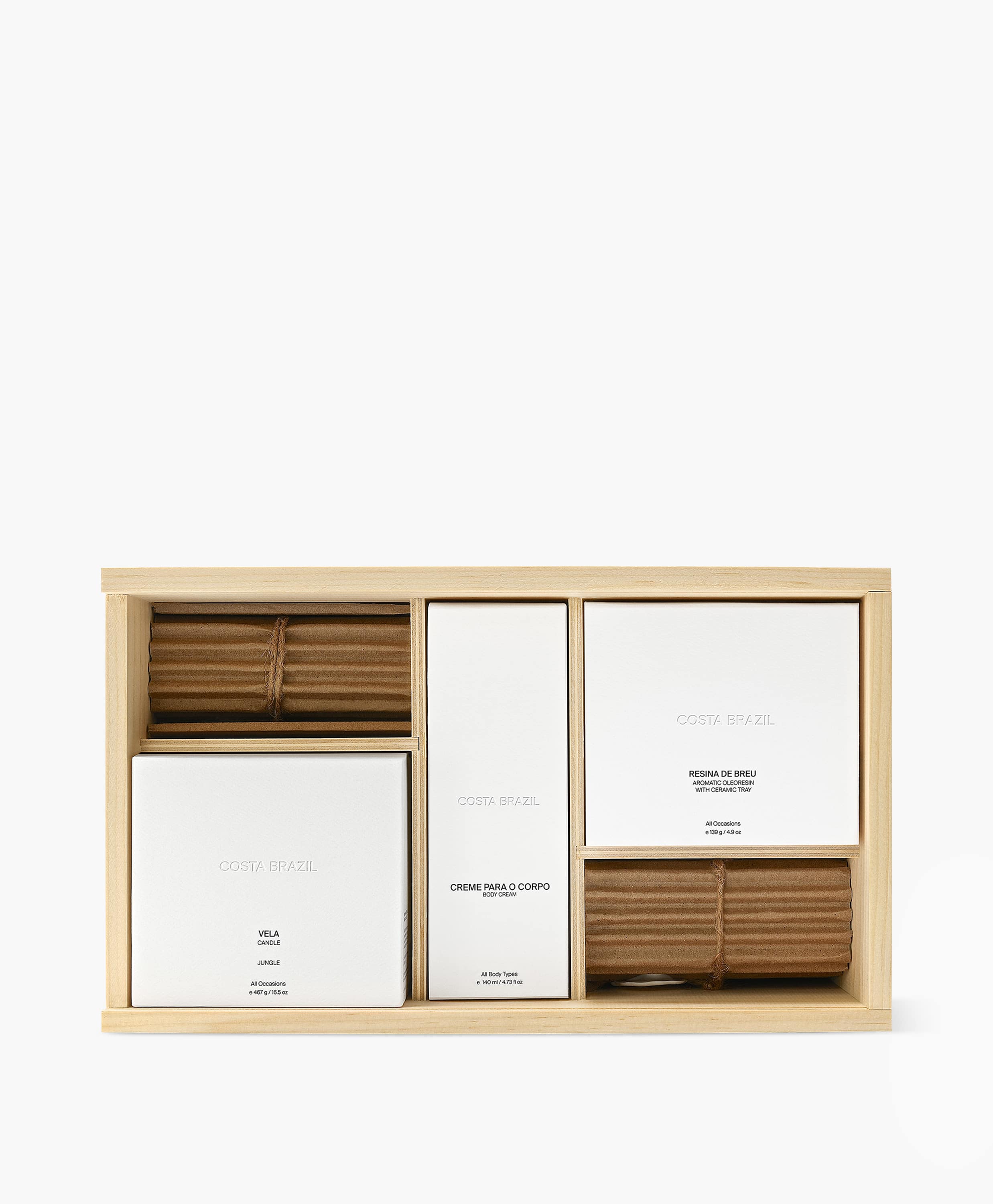 CBRITUAL1
Kaya Anti-Aging Face Oil 30ml, Kaya Jungle Firming Oil 100ml, Body Cream 140ml, Jungle Candle 467g, Resina De Breu 139g
See details
Free US Delivery
Returns Available
Beauty That Gives Back
We are sustainably sourced, environmentally responsible, vegan, no animal testing, free of parabens, phthalates, pegs, silicones, sulfates, gluten, mineral oil and artificial colorants, dermatologist tested.
Nourishes, Firms, Brightens, Spirit Lifting

Experience the magic of rare, sustainable Amazonian ingredients with our limited-edition collection CBRITUAL1. Featuring the complete COSTA BRAZIL Skin and Breathe Rituals--Kaya Anti-Aging Face Oil, Kaya Jungle Firming Body Oil, Body Cream, Jungle Candle and Resina de Breu--this kit is intended to enhance your skin, awaken senses, and calm spirits.

Kaya Anti-Aging Face Oil (30ml)
A fast-absorbing, lightweight formula, Face Oil is rich in nourishing lipids, powerful antioxidants, omegas and vitamins to help boost radiance, firmness and hydration.

Kaya Jungle Firming Body Oil (100ml)
Good for softening and toning the skin, Body Oil is made with our cold-pressed Jungle Complex of rare Amazonian ingredients. Rich in omegas 3, 6, 9, and vitamins A and E.

Body Cream (140ml)
Lock in moisture and enhance your skin's new-found vitality with Body Cream, which features Jungle Complex as well as hydrating Murumuru Butter. Rich in omegas 3, 6, 9 and vitamins A, B3, C and E.

Jungle Candle
Allow the sensual, botanical scent of our Jungle Candle to take your mind, body and spirit to the heart of the Brazilian rainforest.

Resina de Breu
Used for centuries to enhance peace of mind, focus, and to balance the sixth chakra, Breu is a natural resin that is found in the jungles of Brazil and is revered for its healing benefits: peace of mind, balance, focus.
How to Use
Step 1. After a warm bath or shower, gently towel off, and apply Body Cream to freshly cleansed skin.
Step 2. Lock in moisture with Body Oil. Massage in circular motions from the neck down, taking a moment to inhale the scent in the palms before applying.
Step 3. Light Jungle Candle or Breu Branco Resin. If candle, trim to ¼ inch. If resin, hold flame to a small piece of Breu, approximately an inch in size, to ignite. Allow to burn for 30 to 60 seconds. Gently extinguish the flame by blowing or fanning before placing on the provided ceramic tray or any heat resistant surface. Breu is a resin that you can burn in the same way as frankincense, copal, myrrh. It may be burned with charcoal, in an incense burner or brazier. Please allow resin stones to cool down completely before handling.
Step 4. Breathe.
Step 5. Warm and press 3 drops of Face Oil onto the skin with your fingers, once again pausing to enjoy the comforting scent.
Eco-Packaging
We strive to use sustainable, recycled, and biodegradable materials whenever possible. Our boxes are made from FSC-certified paper, which has been sourced in an environmentally-friendly and socially-responsible manner.
The power of rare, potent, and natural ingredients sourced ethically from the Amazon.