SKIN RITUAL
Kaya Anti-Aging Face Oil 30ml, Kaya Jungle Firming Body Oil 100ml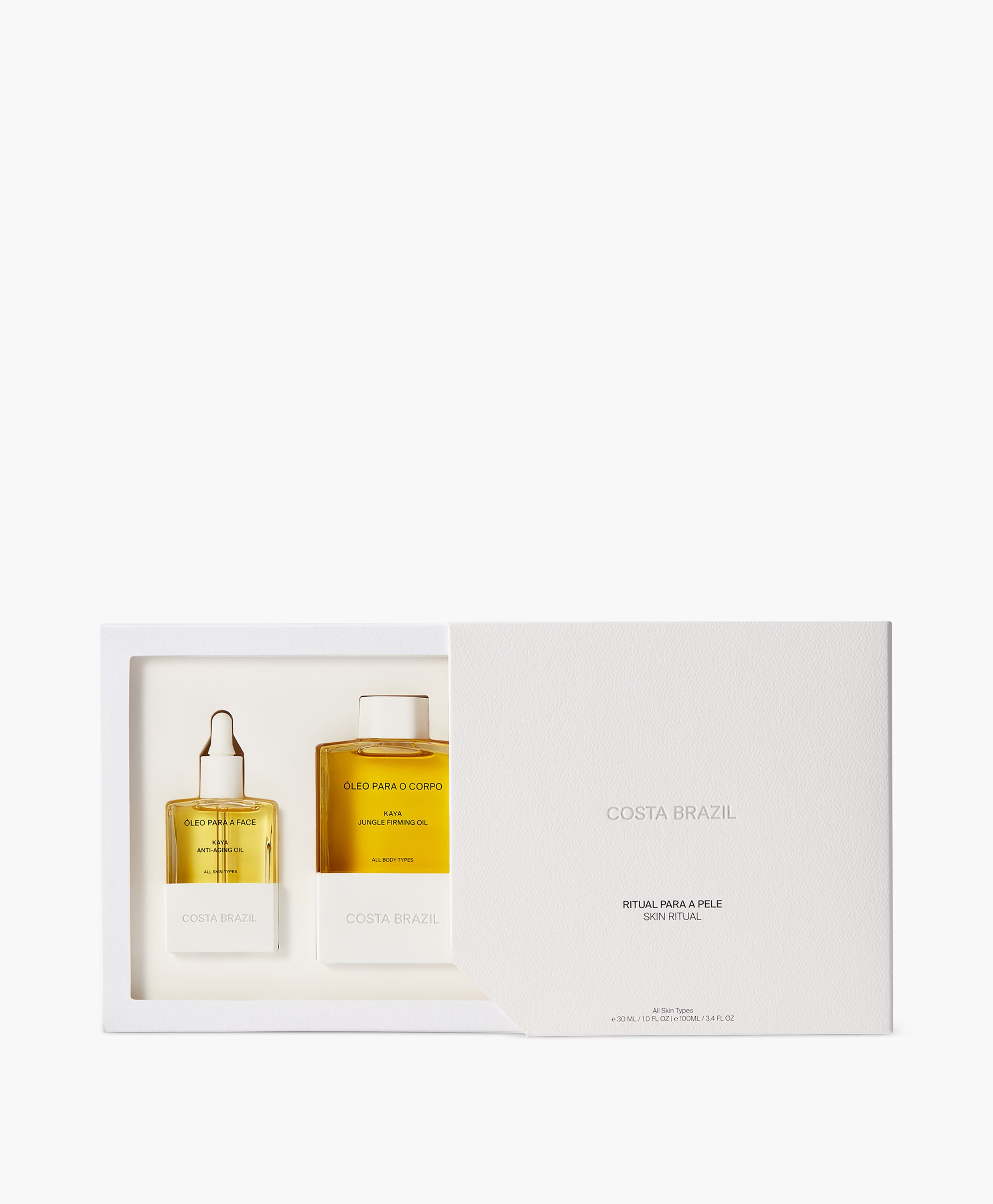 SKIN RITUAL
Kaya Anti-Aging Face Oil 30ml, Kaya Jungle Firming Body Oil 100ml
See details
Free US Delivery
Returns Available
Beauty That Gives Back
We are sustainably sourced, environmentally responsible, vegan, no animal testing, free of parabens, phthalates, pegs, silicones, sulfates, gluten, mineral oil and artificial colorants, dermatologist tested.
Enhance your natural radiance with Kaya Anti-Aging Face Oil and Kaya Jungle Firming Body Oil. This potent duo is essential for environmentally stressed skin.


Kaya Anti-Aging Face Oil:
A Brazilian rainforest beauty elixir powered by nature to enhance your skin's healthy glow. This fast-absorbing, lightweight formula is rich in nourishing lipids, essential fatty acids, omegas 3, 6, 9 and vitamins A, C and E.
Powerful antioxidants help boost radiance, firmness and hydration.

Kaya Jungle Firming Body Oil:
This high-performance, lightweight oil helps soften and tone skin while unlocking your natural radiance.
Our cold-pressed Jungle Complex of rare Amazonian ingredients promotes firmer, healthy-looking skin.
Rich in omegas 3, 6, 9, and Vitamin A and E.
Benefits:
Nourishes
Firms
Brightens
Revitalizes
Soothes
Step 1: Apply Kaya Anti-Aging Face Oil daily to face, neck and chest. Place 1-2 drops into palms and pat gently onto skin. Use morning and evening.
Step 2: Smooth Kaya Jungle Firming Body Oil over damp skin and massage in circular motions. Tip: Can be used on hair for a healthy gloss.
Eco-Packaging
We strive to use sustainable, recycled, and biodegradable materials whenever possible. Our boxes are made from FSC-certified paper, which has been sourced in an environmentally-friendly and socially-responsible manner.
The power of rare, potent, and natural ingredients sourced ethically from the Amazon.