Leave it to Maryam Nassir Zadeh, a designer many equate with New York City or, more specifically, the Lower East Side of New York City, to marry her latest collection of delicate yet durable pieces with a beauty look that is grounded in health. No matter the season, Nassir Zadeh tends to show some skin. And this runway was no different. Moments of transparency were prevalent but also subtle: sheer, skin-colored trousers beneath a belted work dress; translucent stockings that paired with slitted minis; cropped and see-through crew-necked tops and skirts that gave way to black brassieres and panties. "For me, it was more about the visceral feeling of a texture, the touch of it, and the emotional reaction you have to it," says Zadeh backstage. "I'm always trying to capture the soulful elegance that so many of the clothes I collect have."
Above-the-neck, there was a similar sentimentality, for which makeup artist Fara Homidi used Costa Brazil's Face Serum, Face Oil, Body Oil and Sunlight and Moonlight oils to achieve "fresh, juicy skin" that looked soft and radiant. To compliment the well hydrated base layer, a perfectly clean canvas for a look she and Nassir Zadeh called "upbeat but muted," Homidi added pops of color to the lids. Shades of taupe, acid yellow and a blue slate hue the artist called "moon purple" ran from the eye lids up to the brow lines on models such as Lexie Smith, Lily Sumner and Paloma Elsesser. "If you're going to do something, have conviction and just go for it," she says of the modern shape, which to her proved aspirational.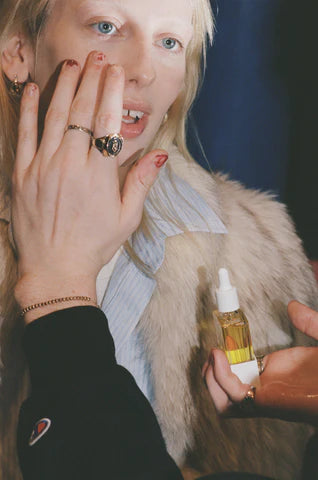 At lip level, for the most part, things were kept quiet with nude or bare pouts. One model, however, donned an intentionally lived-in orange-tainted lip. "Maryam had been drinking a turmeric tea, and it left a stain, so one person got a turmeric stained lip," says Homidi of the brilliant-looking pout that was inspired by a drink that has been shown to carry anti-inflammatory and antioxidant attributes. Coupled with well-nourished skin—something model Drake Burnette, clad in a baseball tee and pencil skirt, says is a must in Manhattan ("I notice my skin is much more challenged when I'm in the city; I'm always trying to find the balance of keeping it clean but also not super dry," says Burnette, a fan of Costa Brazil's Face Oil)—it's safe to say Nassir Zadeh served up a healthy dose of New York City living. And it's never looked so good.