The Victoria's Secret supermodel and founder — and Costa Brazil's most recent collaborator — Candice Swanepoel sounds off on what inspired her to create Tropic of C, her eco-minded swimwear line: "Nature, beauty and Brazil." Sound familiar?
Not long after the birth of her first son, supermodel Candice Swanepoel took to social media to share her own thoughts around real beauty. "My account @angelcandice was made as part of one of my work contracts, so I felt a certain restriction to what I could and couldn't share," she says over zoom from her home in Miami. Called @themermaidfiles, the secret page is filled with black and white photographs of mostly makeup-free women in simple two-pieces lounging on boats or in the sand, juxtaposed with snaps of tropical islands and pink flowers taken on someone's iPhone. Besides a few familiar faces now and then—Gisele Bundchen, Claudia Schiffer, Emily Ratajkowski, Candice—the whole page feels incredibly down to earth.
That brand, called Tropic of C, is an eco-minded swimwear and lifestyle line that uses materials like regenerated nylon for their suits (many of which are made from compression fabrics that hold you in no matter how itsy bitsy the cut is, she says) and plastic alternatives for packaging. Still, despite all the team's hard work to be environmentally responsible, sustainability wasn't a big part of their messaging in the beginning. "I didn't want to advertise it—I just wanted to sleep well at night," she says. "When you're a mother, you think so much about the future of the planet, and what kind of future our kids are going to have. I just needed to make it make sense."
In addition to her family and nature, Candice counts Brazil as one of the biggest inspirations for Tropic of C. "That's a topic I could talk about all day," she says, recalling her first trip to the country. She was 17 and in love and well into her modeling career at the time. "I had a kind of anonymous freeing feeling in Brazil, and it became a way for me to balance work Candice and the real me," she says, adding the close connection the country has to South Africa made her feel instantly right at home. "I was fascinated by the confidence of Brazilian people. The way they wore their clothes, their routines in public—people would take half of their bathrooms to the beach! There is this ease regarding feeling comfortable in your body. Brazil is where I learned how to be comfortable in mine."
Read more from the mother, supermodel and founder, in celebration of our new collaboration, "Swim & Skin." Ten percent of all sale proceeds will go to Conservation International, a nonprofit in support of the Amazon.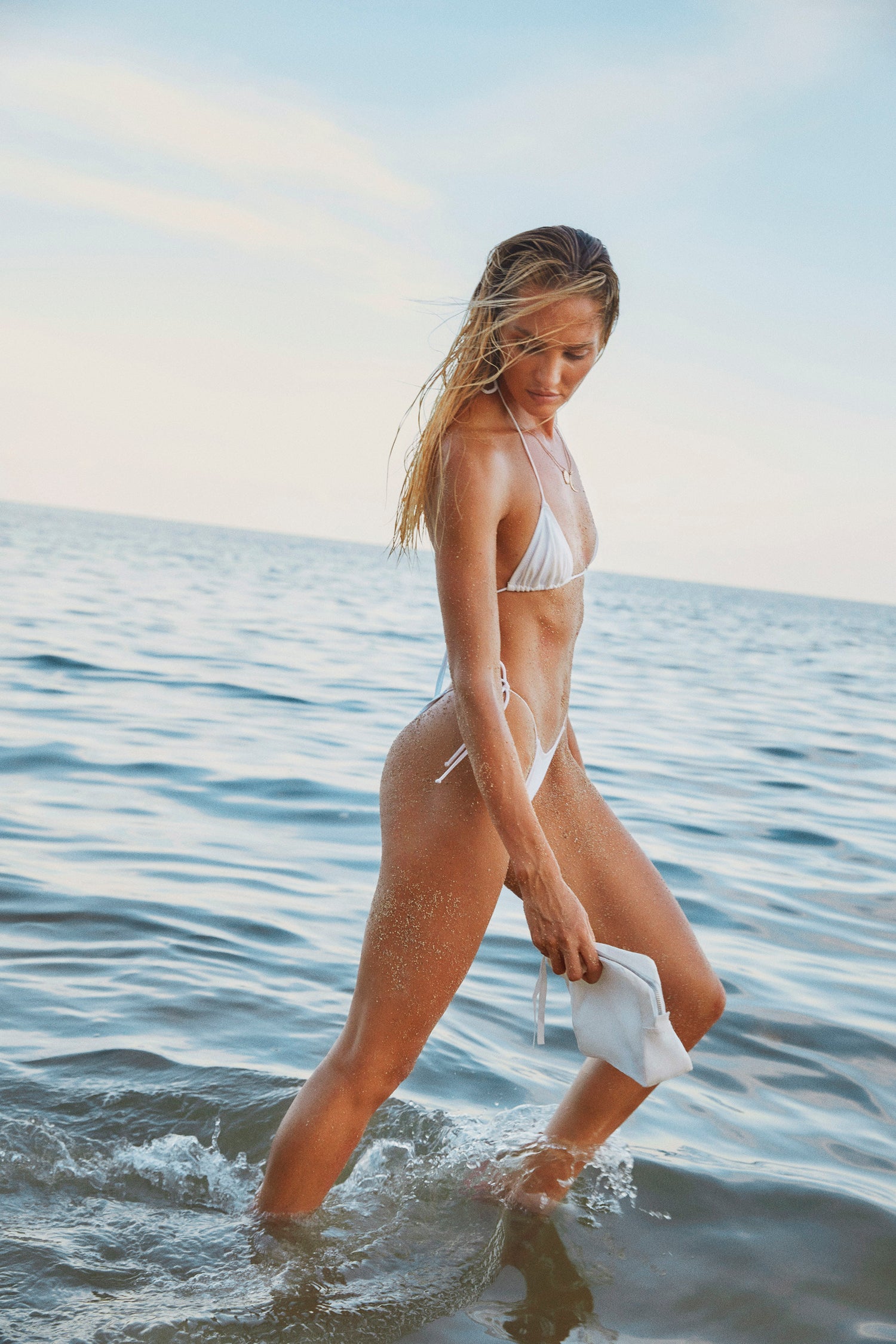 Let's talk about your connection to Brazil. How has it inspired your work and approach to beauty?
Brazil is a topic I could talk about all day. At 17, it became my place of peace and discovery for many years. At the time, I was already dealing with the weight of my career and, having left South Africa at 15, I needed a place where I could feel normal and simply be young. I got this kind of anonymous freeing feeling when in I was there. At the same time, Brazil also feels closely connected to my African roots, so I automatically felt very at home.
Tell us about the early days of Tropic of C.
I had an account called @themermaidfiles that only a few fans and followers had access to. My account that was 'angelcandice' was made as part of one of my work contracts, so I felt a certain restriction to what I could share. From there I started dreaming of being able to share exactly what I thought was beautiful and that's how the idea to have my own brand came along.
When did you decide to make it sustainable?
I remember it so clearly: I was at the table being shown many plastic bags and labels to see how I wanted Tropic of C to look and that's when I said I wanted the team to research alternatives for the packaging. I wanted to create a brand I could be proud of and that wasn't harming the very thing that inspired me most, which is nature.

Tropic of C was one of the first if not the first swimwear brand to be focused on sustainability, as swimwear is made from nylon, it was my mission to use materials that were already existing as well as partner with companies that use fishing nets and other waste from the ocean. That said, I didn't want sustainability to be the tagline—I just wanted to sleep well at night.
"When you're a mother, you think so much about the future of the planet, and what kind of future our kids are going to have. I just needed to make [Tropic of C] make sense."
The name, Tropic of C, does the C stand for Candice?
It's meant to stand for Tropic of Capricorn, which is the southernmost latitude where the sun hits directly overhead. It's where the summer begins, and never ends. A mystical place where it's always warm, and you're always in a bikini. That said, my team does call me C….
So, it's both?
They also call me "Clark Kent" because I'm able to switch the model part on and off while working. One moment I'm directing the vision I have in mind for Tropic of C, and the next I'm in a bikini doing what I do in front of the camera with the odd breastfeed or meeting in the middle. It sounds a bit crazy—and it definitely is—but I enjoy the diversity of it all.
So, what do you find to be beautiful, or rather, sexy?
Brazil is such a sexy place, and in my career, I've played with what is sexy and what is not. To me, the balance of elegant and sexy is what's most beautiful to me. Coverage, but with the slightest high cut or small straps, gives feminine sexiness to me.