Our favorite creative couples sound off on why beauty rituals should be shared with the people you love.
In 2017, photographer Liz Barclay was introduced to Chad Robertson, founder and award-winning chef behind Tartine Bakery and author of Bread Book, through mutual friends in New York City. The pair stayed in touch and, like many New Yorkers, worked together before getting together. "Liz has an especially generous way of moving through the world that struck me the day we met," says Robertson, who cites her giving energy as one of the Georgia native's best traits. Barclay's attention to others is overwhelmingly apparent through her work, a mix of lively portraiture and still life photos for some of the biggest names in fashion, food and beauty. Here, the two partners and long-time collaborators, who split their time between Los Angeles and New York, share their thoughts on self-care, massage and the importance of standing still.
At COSTA BRAZIL, we believe sacred beauty rituals should be shared with the people you love.
Barclay: I believe self-care rituals are a vital component to a healthy relationship. By recovering and tending to the physical body, our spiritual and emotional bodies can thrive, and we can approach our partner having our inner reservoir replenished. Creating rituals that you can do together nurtures a sacred connection and appreciation for your partner's physical well-being as well as your own....

Robertson: I didn't learn to slow down and take a breath until I was grown. There are so many sacred rituals for us all, but the ones that honor health and restoration are newer to me and shared with me by someone I love.

Barclay: It's about creating a relationship based on values that include restoration, respect, and self-love.
How would you describe your approach to selfcare? Be honest.
Barclay: Sacred. Receive. Love.

Robertson: Necessary. Challenging. Treasured
Has your outlook on selfcare changed at all in the last year or so?
Barclay: I was always in-between—flying and overworking myself—and the last several years has taught me the power in ritual and routine, and the importance of stillness. I now fully understand at an emotional level that I am worthy beyond what I produce, my career, or any other measurement that society uses to attempt and quantify our worth. Our worth is inherent, and we all deserve healing and rest.

Robertson: Self care is essential to sustain life—it's no longer just an option, it's a huge part of living.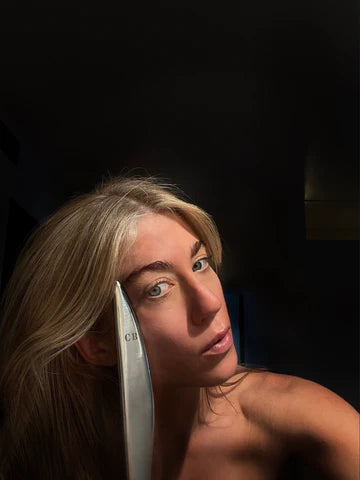 Why did you pick the partner you did for this campaign? (Don't be afraid to get all gushy.)
Barclay: Chad reflects back to me an unconditional sense of compassion and love for me that has taught me so much about giving and receiving. He is also thoughtful about the body, mind and spirit connection, which fuels every part of his life and dharma. He applies this philosophy to himself and that inspires me.

Robertson: Liz has an especially generous way of moving through the world that struck me the day we met. Because of her, I've learned to hold values of selfcare, and to reach out to others in different ways and to embrace what comes back. It's about living and loving more in full, a simple truth that wasn't so missed until it was discovered.
Lymphatic drainage massage is something that removes excess toxins from your body. It's also just meant to make you feel less stressed and look lifted. How did you feel after using our Massage Tool alongside our other products?
Barclay: I felt lighter in every sense. My chi increased as stagnant energy started to move; inflammation and puffiness was drastically reduced; my sinuses felt open; I had improved mental clarity; and the simple meditative action of using the tool created a deep sense of release and peace.