One scroll through the stylist and photographer Rasaan Wyzard's Instagram feed, and you'll see his makeup artist boyfriend, Wanthy Rayos, posing in bed, in a bubble bath, donning a robe in front of the bathroom mirror. Selfcare, it seems, is a big part of the duo's everyday routine. "It's always nice for us to do things together that give us reasons to repose—and why not feel cute when we do!" says Wyzard, who explains that selfcare, for the couple, is a necessity. Here, the New York-based artist discusses his partner's unique ritual that he can't get enough of, as well as his biggest beauty icon: his mom (we swoon!).
At COSTA BRAZIL, we believe sacred beauty rituals should be shared with the people you love.
I agree! Especially for Wanthy and I who are both creatives with crazy schedules, it's always nice for us to do things together that give us reasons to repose—and why not feel cute when we do!
How would you describe your approach to selfcare? Be honest.
Peace. Wellness. Replenishment.
Has your outlook on selfcare changed at all in the last year or so?
The last year, if anything, has really made me appreciate selfcare as a necessity. With the constant chaos and uncertainty in the world, it's comforting to be able to rely on my home as a place of refuge where I can shut out the world and just take care of myself.
Who is your biggest beauty icon and why?
My mother is my beauty icon. She was the type of person to draw baths followed by skin regimens, and always had signature fragrances.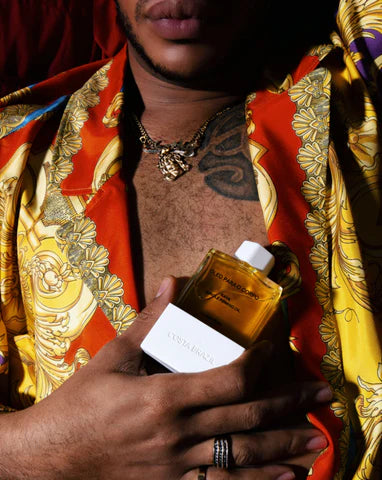 Tell us about a selfcare/beauty ritual that was passed down to you, either through a close friend or family member.
When I first started dating Wanthy, I found it strange that after showering, he would dab a bit of cologne on before bed. Now I look forward to it! The sense of smell is tied to memory, and I love that gentle reminder of where things began for us. Now I'm guilty of the same practice.
Lymphatic drainage massage is something that removes excess toxins from your body. It's also just meant to make you feel less stressed and look lifted. How did you feel after using our Massage Tool alongside our other products?
For two people who spend a ridiculous amount of time on their feet, enduring pain in our backs, it was a welcomed guest in our selfcare routine. In combination with the Vela candle on my nightstand, and Wanthy working out the knots in my back, I couldn't help but feel euphoric.
Images by Rasaan Wyzard